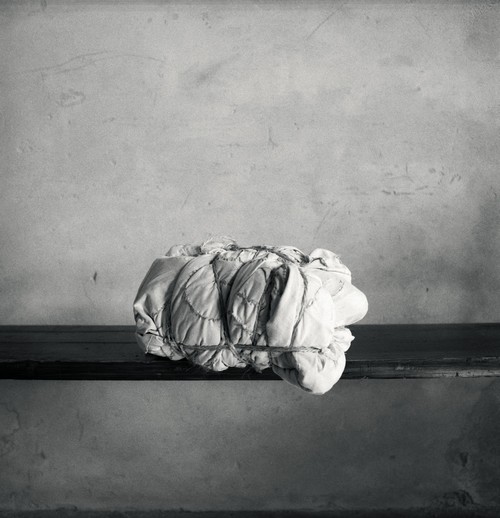 The large installation designed and put in place by Irene Nocora at the Fondazione Ghisla takes its inspiration from a highly personal life experience but is not limited to a private matter. The thread running through it begins in his encounter with a mother surprised in her progressive decline and loss of memory due to ageing and is entitled LA VOCE IN ECO RISUONA (THE VOICE ECHOED RESOUNDS). This voice which suddenly comes alive again years after her death and resounds inside him is that of his mother Angelina, evoking immense affection and far-off memories: in this respect, on an initial plane of interpretation, the artist's work is an act of acknowledgement and love towards her, yet at the same time questions the identity of every individual faced with the fleeting nature of time.
It consists of sequences that have come into being over a time span of six years (2018-2023) in diverse situations and places and which blend and alter to underline the continuity of the thought that unites them. A path to be experienced, with works that enter the observer's space and call out to him or her. The installation thus acquires a conceptual connotation for which the visitor's own contribution and involvement is essential.
Interrogating himself on the ephemeral nature of memory, the artist faces the question of our individual, ever-uncertain self identification, since losing memory means losing significant pieces of our personal history and thus of our identity. Coming to grips with our memories therefore means coming to grips with life: first and foremost with our own but also with the lives of those who have been close to us, in a constant to-and-fro pendulum-like movement. Bearing witness to his mother's firm and dignified daily resistance and calling on friends and acquaintances, the installation leads us to a broader reflection on the function and significance of memory: shifting between the personal and subjective plane of the artist, and the collective, universal plane of every individual faced with him/herself, his or her history and the environment surrounding them.