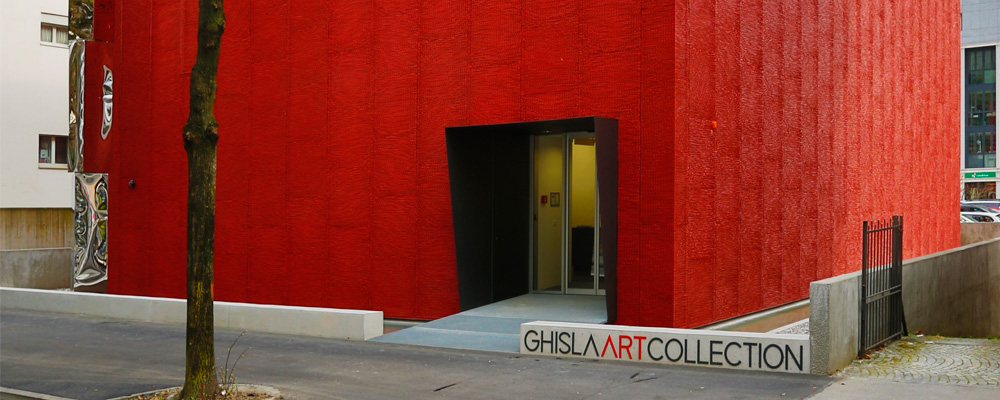 The nonprofit Fondazione Ghisla Art Collection was founded in April 2014, with the aim of making an artistic holding of international value available to the public, to be shared with all those who recognise art to be an indelible asset.
The collection has been created by the Ghislas, a husband-and-wife team impelled by a growing and eclectic passion for artistic expressiveness. The collection occupies a futuristic building that has just been built as a project by the Moro & Moro architectural studio of Locarno; it is located in the centre of the town just a few metres from the marina.
The works in the Fondazione Ghisla are laid out in eight rooms over three floors. Their layout is not determined by chronological rigour or by a division by the movements and trends that have characterised the art from the late 20th century up to today. Anyone entering these spaces immerses himself in the taste of Pierino and Martine Ghisla, who over the past thirty years have gathered perfect masterpieces from the Pop Art, Arte Informale, Conceptual Art, Abstract Art and New Dada movements… together with emerging artists who are perhaps less well-known to the general public. Their approach has been as though they were welcoming guests into their own home. Thus in the first room, one sees a Claude Viallat's work in close dialogue with a work of Lucio Fontana, while in the forth room, Pierre Alechinsky and Karel Appel convey their "cobra" style to the geometric rigour of a canvas by Victor Vasarely, which in turn hangs next to an historical painting by Joan Miró. And so on. A way to draw the visitor actively into a reading and into the history of these works and their juxtapositions. Moreover, starting from 2016 the entiere third floor of the building is dedicated to temporary exhibitions. Presenting works that are not part of Ghislas collection, we thus extend our exhibiting offer.